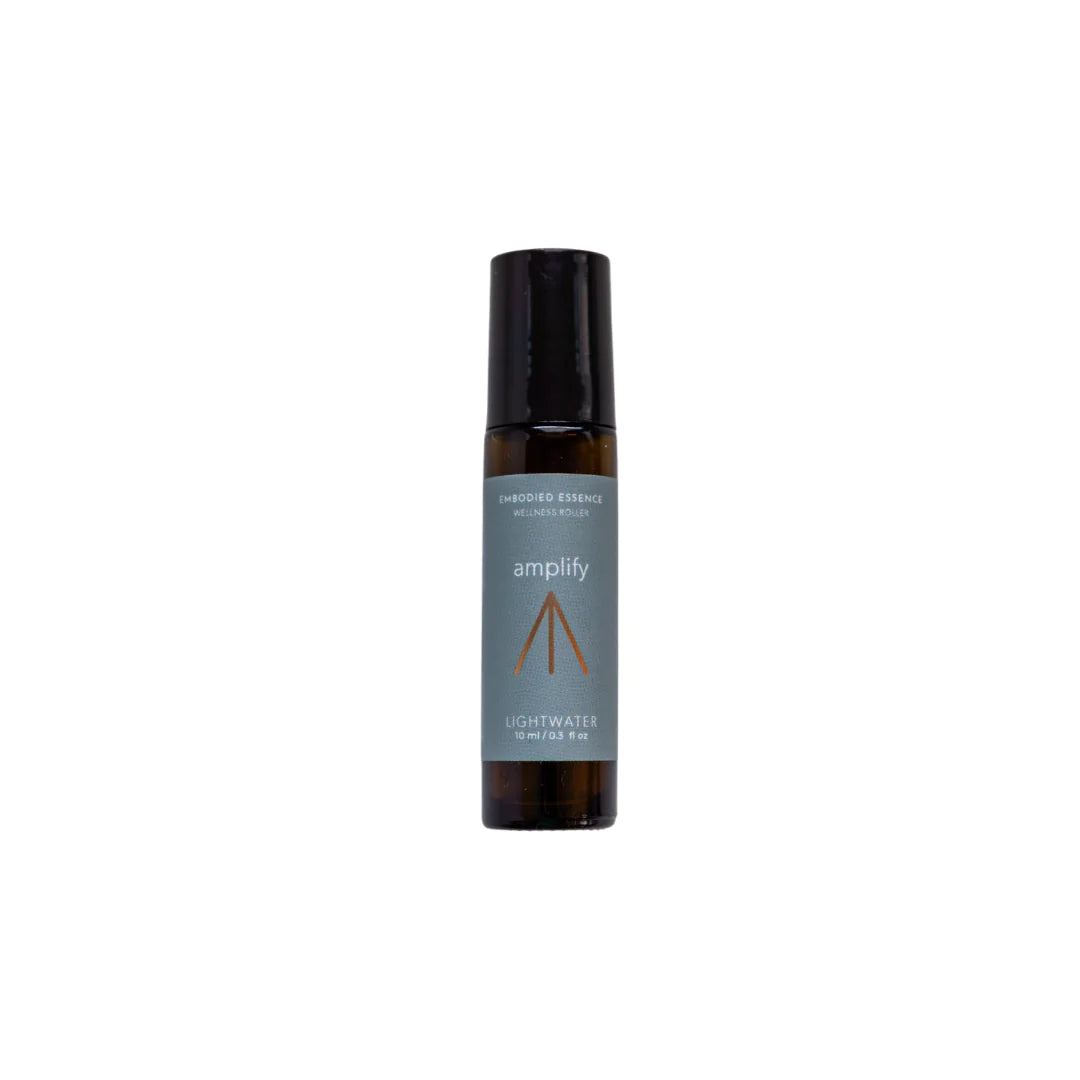 Amplify Wellness Roller
An Embodied Essence + LightWater Collaboration

Throw up your hands and celebrate as Amplify uplifts your body. Life and joy flows through you with ease. Amplify creates a space to radiate your beauty and brilliance out into the world.
Amplify is a dance party for your nervous system and helps to elevate your state almost immediately.  As the blend lifts you up, you can still feel the pull of the earth, with your roots firmly anchoring as you expand.  Life ebbs and flows, and our work is to embrace rather than resist the highs and lows.  Reach for Amplify whenever you are feeling the downward pull to lift you up, or to strengthen the beautiful peaks.
bright, fresh, sweet, minty and herbaceous with a warm floral undertone
Visit Embodied Essence Website to learn more about Brittany's Offerings
Ingredients: Fractionated Coconut Oil, Bergamot (Citrus bergamia), Lemongrass (Cymbopogon flexuosus), Sea Fennel (Crithmum maritimum), Spearmint (Mentha spicata), Rose Geranium (Pelargonium graveolens v roseum)
Ingredient Profile
Bergamot - Both uplifting to the spirits and calming to the body. Bergamot is fresh and energizing
Lemongrass - Energy cleansing. Encourages you to let go of limiting beliefs. Promotes spiritual clarity and release
Sea Fennel - Used for its healing and medicinal properties. Rich in vitamins A, C, E, amino acid peptides, and polyphenols. Stimulating, balancing and can help support mental focus and clarity
Spearmint - Opens airways, allowing for clearer breathing and thinking. Great oil for stress-management rituals as it is calming to the mind and uplifting to the spirit
Rose Geranium - An adaptogen herb: that supports the adrenals and hormonal response to stress. Rose Geranium has a balancing effect on the mind, body, and spirit.
Amplify Ritual

"I reach for Amplify on the days that things seem a little bit dark and heavy. The LIght and airy tones help lift my heart and my spirits and bring me back above the line.  As I apply the oil to my wrists or add it to the diffuser I stand and wait, I feel what is alive in my body. I turn on a feel-good song and allow my body to respond to the aroma and the beat.  It is not about Dancing, it is about moving my body in a way that feels good and allowing my vibration to shift.  Setting a container of one or two songs allows me to go all in, shake and shift and release the weight, and walk back into my day with a whole new perspective." - Brittany of Embodied Essence