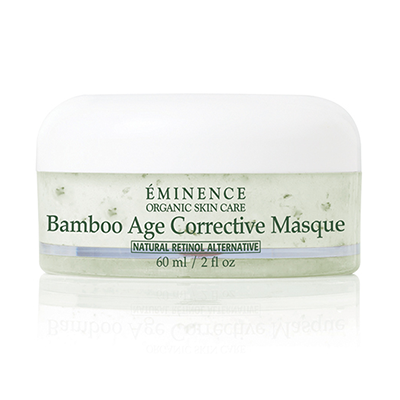 Bamboo Age Corrective Masque
Treat the skin with this age repairing mask that uses the most powerful anti-aging technology in natural and organic skin care.
GLUTEN FREE
Retail Size: 2 oz / 60 ml
How To Use
Apply a thin layer of mask with fingertips to cleansed skin, avoiding the eye area. (Dilute with water for easier application). May use galvanic or ultrasound. Leave on for 5–10 minutes. Remove with a damp face cloth.

Key Ingredients
Natural Retinol Alternative: skin appears immediately lifted and tightened; contains chicory root oligosaccharides and tara tree gum
PhytoCellTec™ Swiss Green Apple Stem Cells: plant stem cell concentrate; promotes elasticity and delays the visible signs of aging
Bamboo: contains soluble and insoluble fiber, antioxidants, proteins, vitamins and minerals
Argan Oil: antioxidant; softens and moisturizes
Shea Butter: moisturizer high in triglycerides and fatty acids; excellent emollient for skin; replenishes the skin moisture barrier
BioComplex: a booster of antioxidants, Coenzyme Q10, and Alpha Lipoic Acid to reduce the appearance of wrinkles and improve the appearance of skin
Results
Skin instantly looks and feels firmer and tighter
Signs of aging are visibly reduced
Skin is smoother and more toned
Moisture and hydration levels are improved
Elasticity of the skin is improved