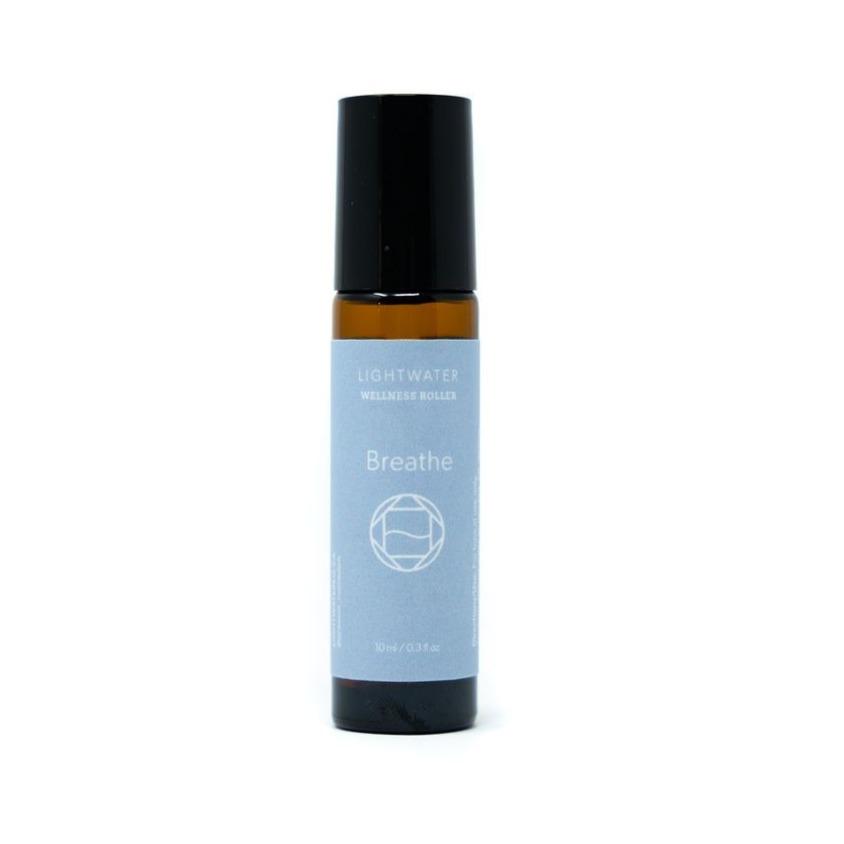 Breathe Wellness Roller
Breath is sacred. When we have trouble breathing, our energy can become stagnant and a block is created between our head and body.
10ml bottle with leakproof rollerball
Wellness Rollers are a 5% dilution for daily topical application.
Uses
Headache/tension relief

A refreshing aroma on hot days

Afternoon pick-me-up
Ingredients
Peppermint, Cypress*, Eucalyptus*, Bergamot*, Tea Tree*
*certified organic ingredient
Aromatic Description
Minty, herbaceous. Fresh and airy
Chakra Association & Affirmation

Throat Chakra - Vissudha
I express myself clearly
Safety
Keep away from children and pets. Consult your doctor if pregnant or breastfeeding. Avoid eyes, ears, and sensitive areas. Do not apply directly to broken skin. Stop use if irritation occurs. Do not ingest.
Some oils can make skin more sensitive to UV rays. It is advised not to expose skin directly to UV rays for 12 hours after topical application

-

As with all essential oils, never use them in the eyes or mucus membranes. Use caution when using undiluted. If applying an essential oil to your skin always perform a small patch test (after you have properly diluted the oil in an appropriate carrier) and discontinue use if irritation occurs.

All information on this site is intended for educational purposes only. This information has not been evaluated by the Food and Drug Administration or the Department of Health Canada.

This information is not intended to diagnose, treat, cure, or prevent any disease.

The Strength essential oil blend encourages connection to body, Earth, and the physical world. A comforting blend that is grounding, strengthening, and warming.