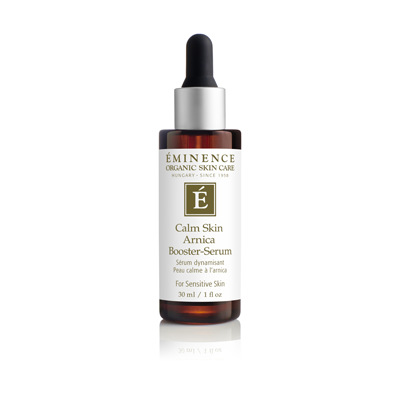 Calm Skin Arnica Booster Serum
Calm and balance your skin with this extra strength serum and product enhancer infused with arnica, chamomile and lavender.
VEGAN     SOY FREE     NUT FREE     GLUTEN FREE
Retail Size: 1 oz / 30 ml
How To Use
Apply a thin layer over the entire face, or apply to affected areas 1–3 times per day. Alternatively, combine 2-3 drops with an Eminence masque or moisturizer.

Key Ingredients
Arnica: cleanser
Ivy: tones and tightens the appearance of pores
Rosehip: vitamin-C rich
Horse Chestnut: tones and tightens the appearance of skin
Lavender: restores moisture to dry skin
Chamomile: revitalizes, calms and balances the appearance of skin
BioComplex: a booster of antioxidants, Coenzyme Q10, and Alpha Lipoic Acid to reduce the appearance of wrinkles and improve the appearance of skin
Results
The appearance of redness is reduced
The appearance of irritation and inflammation are calmed
Complexion appears toned and enriched
Oxygenation and blood circulation is stimulated
Results are enhanced when using entire Calm Skin VitaSkin™ Solution