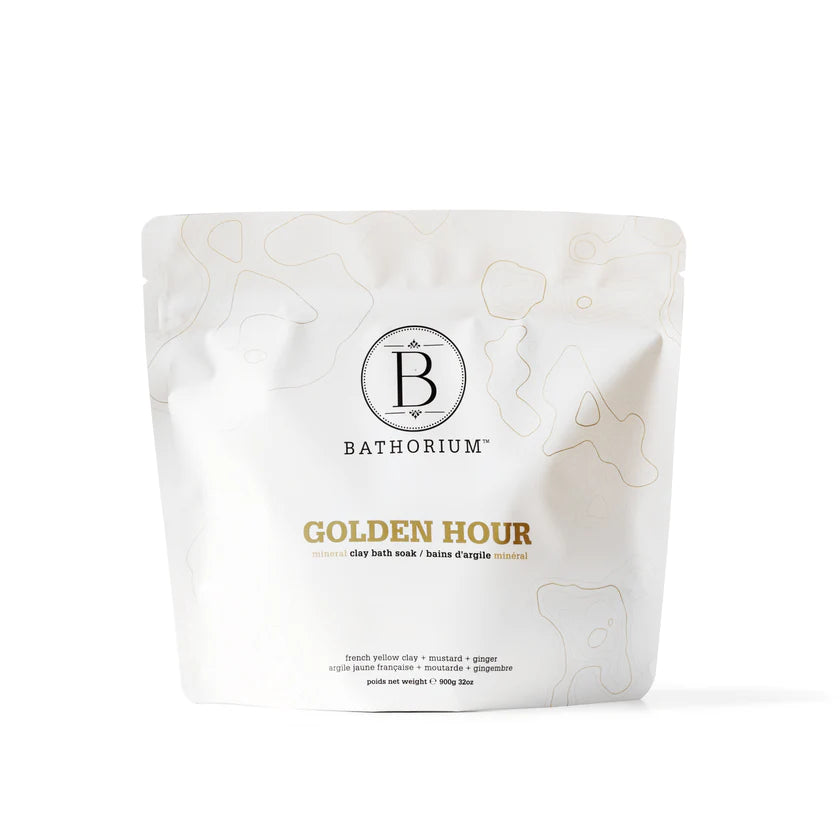 Clay Soak Golden Hour Mineral Bath
DETOXIFY, EXFOLIATE, RELIEVE AND CALM WITH THIS BENEFIT-BASED MINERAL BODY TREATMENT AND SERENE RITUAL ALL IN ONE.

Shed those toxins and impurities with hand-harvested French grey sea salt, French yellow clay, cold-pressed mandarin, marjoram, and fresh ginger co2 extract for a deeply detoxifying soak that leaves you feeling decongested, refreshed, and positively blissed out.
Leave your impurities at the door.
Size: 900g (3 baths)
Hints of: Mustard, mandarin, ginger
Perfect for: Detoxification, skin treatment, muscle pain
Notable ingredients:
+ French Grey Sea Salt: Also known as 'fleur de sel', this mineral-rich salt is processed only by the sea, sun, and human hands which is crucial to preserving its nutrient profile. French Grey Sea Salt has 17x more trace minerals than traditional salt.
+ French Yellow Clay: Gently decongest blocked pores, stimulate circulation, and gently detoxify with this gentle, but effective mineral-rich clay.
+ Mustard: A traditional remedy around the world for congestion, stress, achy muscles, and fatigue - Mustard has been known to stimulate the sweat glands, opening the pores and assisting your body to rid itself of toxins.