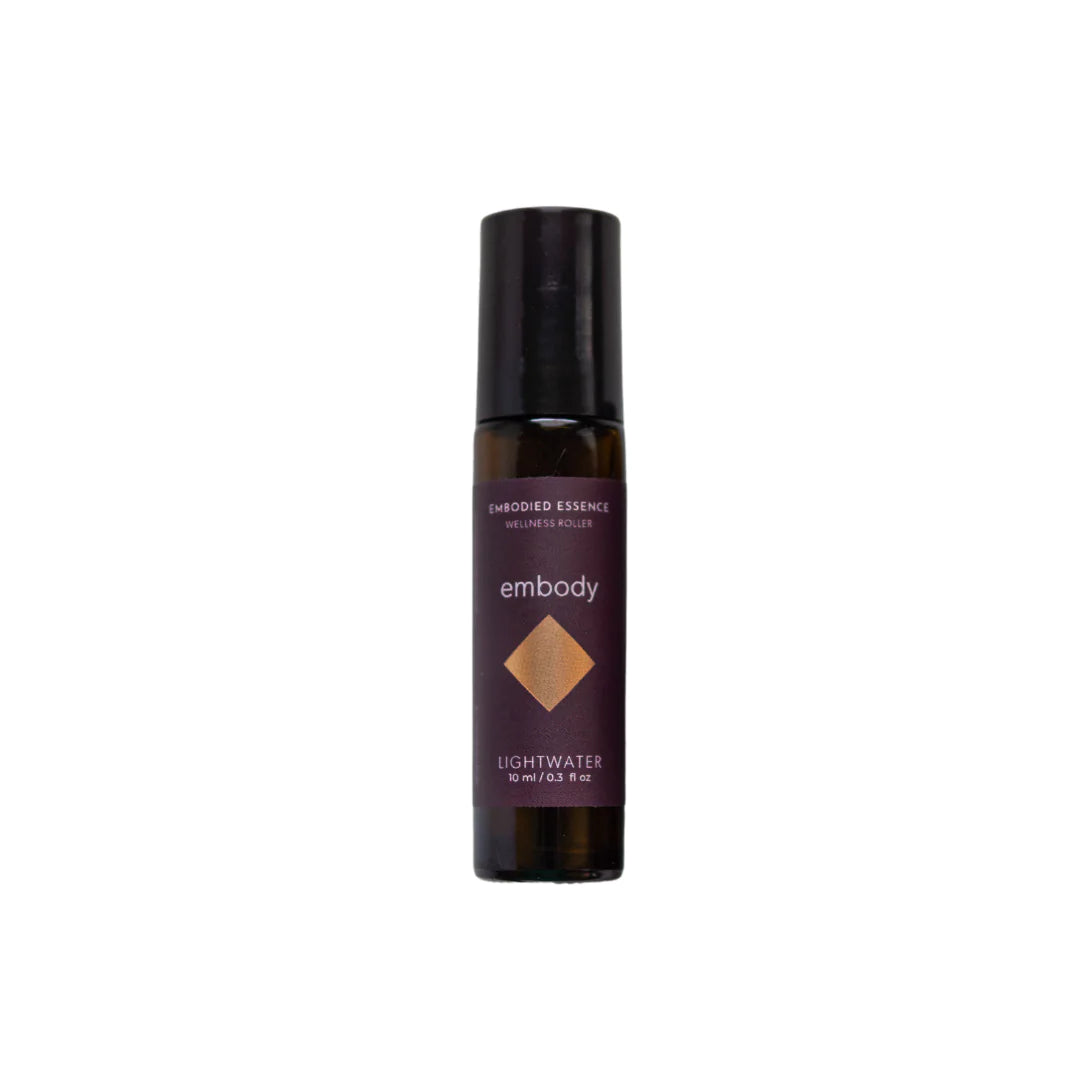 Embody Wellness Roller
An Embodied Essence + LightWater Collaboration

This warm yet expansive blend aligns with the second pillar of Embodied Essence. The sensation starts in your solar plexus and moves quickly to your heart.  As the bubbles of warmth reach your chest the body undulates to lift your heart higher. Moving you to a space of deep love and gratitude.
Connecting to womb and heart, embody gives permission to integrate and become who you are and magnify the gifts you are here to provide the world. An invitation to Presence and Truth, Embody is here to support you through both your strength and your softness. When you need to remember and touch your truth, this blend will support you time and time again.
Visit Embodied Essence Website to learn more about Brittany's Offerings
Ingredients: Fractionated Coconut Oil, Palmarosa (Cymbopogon martini), Rose Geranium (Pelargonium graveolens v roseum), Sandalwood (Santalum album), Bergamot (Citrus bergamia), Cedarwood (Juniperus virginiana), Ginger (Zingiber officinale), Sea Fennel (Crithmum maritimum)
Aromatic Description
warm, woody + floral with bright citrus notes

Ingredient Profile
Palmarosa - Provides relief from exhaustion and anxiety. Traditionally used in aromatherapy to banish dark thoughts
Rose Geranium - An adaptogen herb that supports the adrenals and hormonal response to stress. Rose Geranium has a balancing effect on the mind, body, and spirit.
Sandalwood - Has a grounding effect on the body + calms the nervous system
Bergamot - Both uplifting to the spirits and calming to the body. Bergamot is fresh and energizing
Cedarwood - Evokes feelings of emotional well-being, grounding, and connection
Ginger - An ancient medicinal herb. Increases circulation, may improve/relieve digestive discomfort and reduce inflammation
Sea Fennel - Stimulating, balancing and can help support mental focus and clarity
Embody Ritual

"Embodiment is my favorite practice, and it is my deep belief that it is the best way to reconnect without selves, to dive beneath the layers that hide our radiance, and to find truth.  Embody is my daily oil, I use it every day to set the tone and remind myself that I am the truth, radiance, and love that I seek. After my morning meditation and pages, I apply Embody to my wrist and my chest. I feel my feet connected to the earth, hand to heart, hand to belly.  I  move slowly into a somatic release to feel into and awaken my body by raising my heels off the earth and allowing them to return with a heavy loose body. After a few rounds, I feel the energy within my body before I tune into my breath, filling up my belly and my chest, pausing at the top, and exhaling from the chest to the belly and pausing.  I imagine drawing the breath from the earth, filling my body in all the dimensions, and then allowing the breath to return to the earth.  When I feel connected to my body and my breath, I slowly open my eyes, smile, and repeat the mantra "You are SO Beautiful" to myself in the mirror, over and over again." - Brittany of Embodied Essence
Size
10ml bottle with horizontal dropper
Product Care
Store bottle upright in a cool space out of direct sunlight
Safety
Keep away from children and pets. Consult your doctor if pregnant or breastfeeding. Avoid eyes, ears, and sensitive areas. Do not apply directly to broken skin. Stop use if irritation occurs. Do not ingest.
Some oils can make skin more sensitive to UV rays. It is advised not to expose skin directly to UV rays for 12 hours after topical application
As with all essential oils, never use them in the eyes or mucus membranes. Use caution when using undiluted. If applying an essential oil to your skin always perform a small patch test (after you have properly diluted the oil in an appropriate carrier) and discontinue use if irritation occurs.
All information on this site is intended for educational purposes only. This information has not been evaluated by the Food and Drug Administration or the Department of Health Canada.
This information is not intended to diagnose, treat, cure, or prevent any disease.