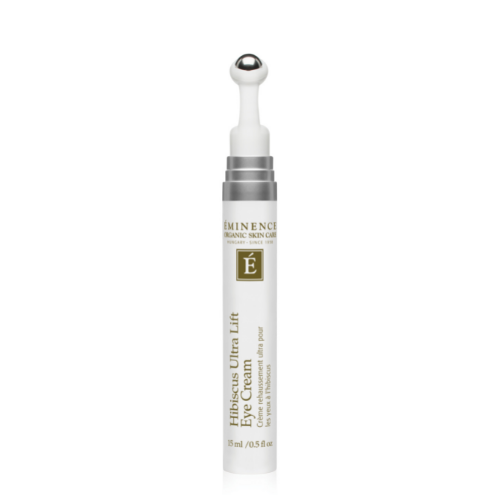 Hibiscus Ultra Lift Eye Cream
The Advanced Instant Lift fX eye treatment rapidly de-puffs tired eyes, smooths wrinkles and minimizes the appearance of dark under-eye circles. The cooling, stainless steel rollerball applicator massages hibiscus and ice wine actives into the areas around the eye, appearing to instantly tighten and lift the skin.
VEGAN     NUT FREE     GLUTEN FREE
Retail Size: 0.5 oz / 15 ml
How To Use
Gently depress the finger trigger nozzle to dispense a small amount of product and use the cool stainless steel rollerball to gently massage the cream under the eye area in a circular, upwards sweeping motion. Use once or twice daily under your favorite eye serum or cream. Leave on.

Key Ingredients
Hibiscus: Increases elasticity; moisture rich to keep skin hydrated and supple
Ice Wine Active: Tightens skin so it appears lifted; instantly smooths wrinkles
Caffeine: Reduces puffiness and the look of dark under-eye circles
Botanical Peptides (derived from Hibiscus): Diminishes the look of wrinkles
Green Algae: Increases the look of firm skin
Stevia Extract: Decreases the look of wrinkles and increases hydration
Results
Visible results in as little as 2 minutes. 
Relieves puffiness around the eye area
Eye area instantly feels firmer and tighter
Eye area looks radiant and revitalized
Signs of aging are reduced.