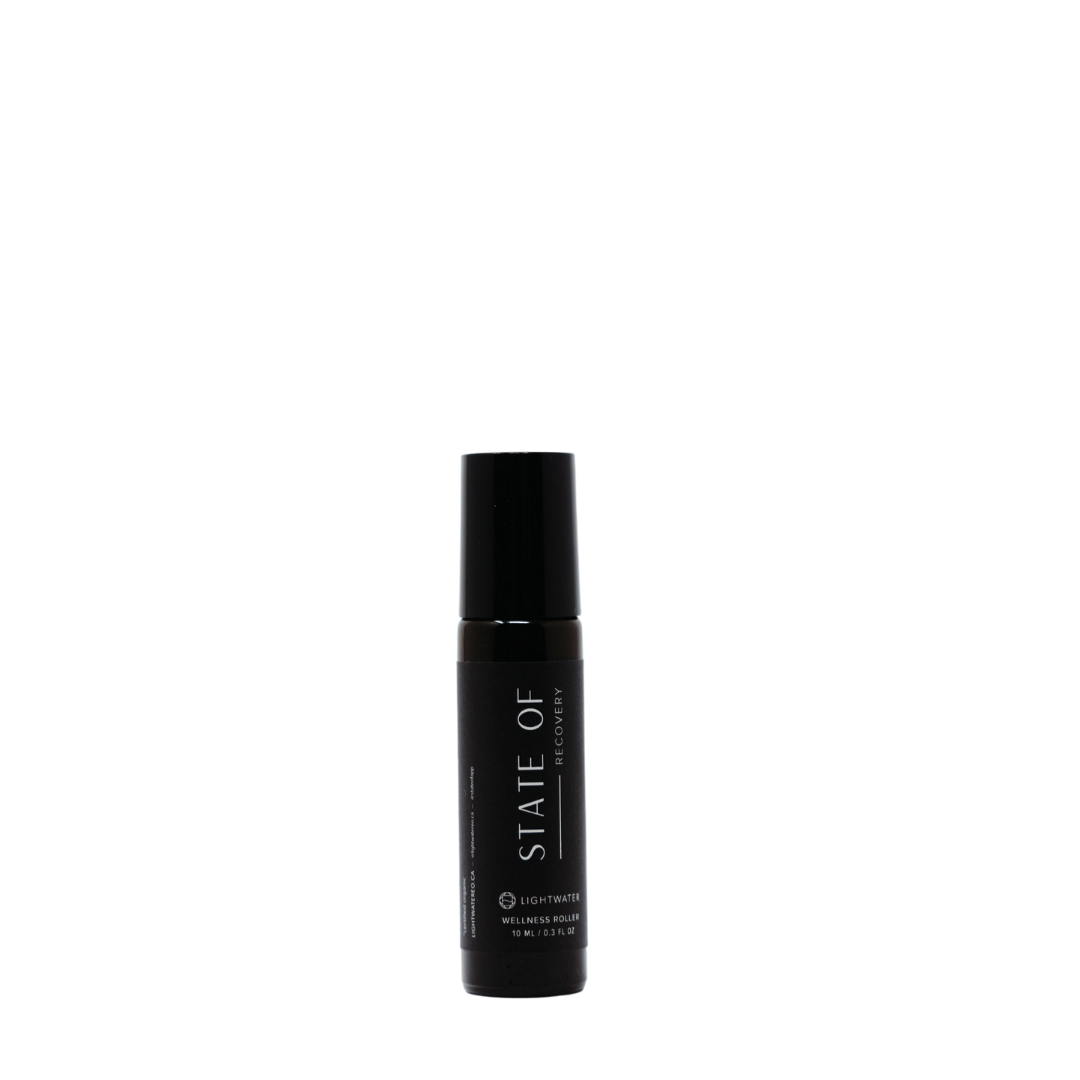 State of Recovery Wellness Roller
Our STATE OF Recovery blend is invigorating to the senses and enhances mind + body resilience. Warming and cooling oils are paired together to increase circulation and calm sore muscles.
10ml bottle with leakproof rollerball
Wellness Rollers are a 5% dilution for daily topical application.
--

Ingredients 
Copaiba, Black Spruce*, Blue Tansy, Wintergreen*, Helichrysum, Peppermint*, Clove*, Black Pepper*, Camphor in Fractionated Coconut Oil
*certified organic ingredient
 Uses
Mist on the body for a cooling sensation on the skin

Mist

 during workouts for an invigorating scent 

Spray on your yoga mat

Use after the sauna to feel refreshed

Perfect partner for hot summer days
Key Ingredients

Distilled Spring Water, Witch Hazel (alcohol-free), Copaiba, Black Spruce*, Blue Tansy, Wintergreen*, Helichrysum, Peppermint*, Clove*, Black Pepper*, Camphor

*certified organic ingredient
Aromatic Description
Fresh, minty, camphoraceous 
Ingredient Profile
Copaiba - May reduce inflammation and provide pain relief. Works with the CB2 receptors in the endocannabinoid system

Black Spruce - Increases alertness and is stimulating to the mind and body. The anti-inflammatory properties of Black Spruce may help to reduce muscle tension
Blue Tansy - A mood enhancer with cooling effects to the skin. An excellent choice for achy joints
Wintergreen -The Methyl Salicylate present in Wintergreen has a cooling effect on the skin
Helichrysum - Also called Immortelle, Helichrysum has an endless list of possible benefits including easing pain, inflammation, swelling, soothing to the skin, and has shown to have anti-fungal properties
Peppermint - Mood enhancing, cooling, stimulating, known to reduce headache tension
Clove - A warming oil that increases circulation. Clove is known for its anti-bacterial effects and for having the highest level of anti-oxidants
Black Pepper - Stimulates circulation, which may support the ease of muscle stiffness
Camphor - A great balancing oil. May stimulate the mind and calm the nerves
Safety
Keep away from children and pets. Consult your doctor if pregnant or breastfeeding. Avoid eyes, ears, and sensitive areas. Do not apply directly to broken skin. Stop use if irritation occurs. Do not ingest.
Some oils can make skin more sensitive to UV rays. It is advised not to expose skin directly to UV rays for 12 hours after topical application

-

As with all essential oils, never use them in the eyes or mucus membranes. Use caution when using undiluted. If applying an essential oil to your skin always perform a small patch test (after you have properly diluted the oil in an appropriate carrier) and discontinue use if irritation occurs.

All information on this site is intended for educational purposes only. This information has not been evaluated by the Food and Drug Administration or the Department of Health Canada.

This information is not intended to diagnose, treat, cure, or prevent any disease.