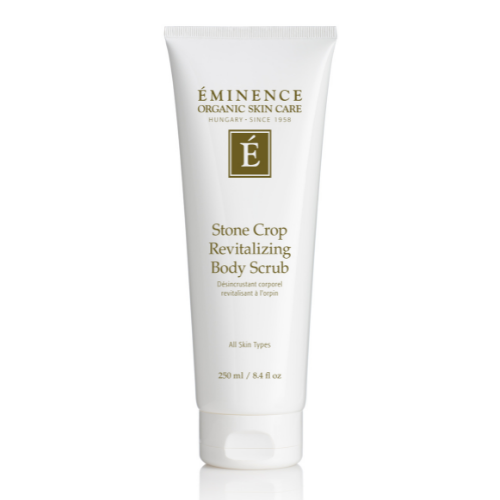 Stone Crop Revitalizing Body Scrub
Polish your skin with the hydrating qualities of sugar and the invigorating benefits of salt. This resurfacing exfoliant lathers into a creamy foam and is infused with comforting stone crop and antioxidant-rich lemon peel to brighten and smooth skin.
VEGAN    NUT FREE     GLUTEN FREE
Retail Size: 8.4 oz / 250 ml
How To Use
Apply a layer of the product to damp skin, preferably during the last part of a shower or bath. Massage in circular motions on legs, hands, arms, elbows and any part of the body that needs smoothing. Rinse well with warm water and pat dry. If needed, follow with a body lotion according to skin type.

Key Ingredients
Stone Crop: moisturizes and brightens the appearance of skin
Raw Sugar Granules: natural alpha-hydroxy acids provide manual exfoliation
Rock Salt: mineral-rich; exfoliating and refining for fresher looking skin
Green Tea: high in polyphenols and antioxidants to minimize the visible effects of free radical damage
Lemon Peel: antioxidant, rich in Vitamin C; natural and mild exfoliant to cleanse and brighten the look of skin
Turmeric: antioxidant; rejuvenates and visibly brightens the skin
Biocomplex2™: a booster of antioxidants that restores the look of radiance, vitality and strength; a targeted blend of nutrients ensuring visible, long-lasting results
Results
Long lasting, luxurious exfoliation
Skin is hydrated and appears soft and supple
The overall look of skin is improved